Quality Filtration for Gas
Separating liquid aerosols from your process gas streams is essential to protect your equipment while guaranteeing the final purity of your product. The right process solution can also reduce maintenance and operational costs in the long-term, by ensuring the performance and longevity of your equipment.
We've designed our process filters in partnership with leading academic experts in coalescing technology, supported by years of industry experience as Europe's leading filter manufacturer. To deliver you quality, reliable, and trustworthy process filtration solutions for gas.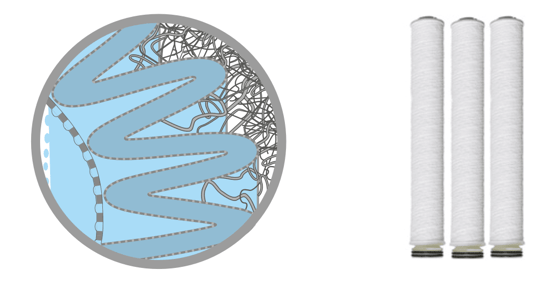 The SupaSep LGP Solution
The SupaSep LGP solution uses highly efficient glass microfibre media to rapidly coalesce fine aerosols into larger droplets ready for separation.
A patented meltblown drainage layer ensures quick separation and drainage of liquid, with fine inter-pleat fibres that promote disengagement from the downstream side. This prevents the risk of ballooning and damage. A graded density structure controls velocity profiles to prevent re-entrainment into the gas flow, enabling liquid levels down to 1ppbw.
Patented meltblown drainage and anti-re-entrainment zone
Increased strength with drainage layers bonded to the pleats
Prevents pleat movement
Reduces damage to GF media
Pleat separation is guaranteed
Maximises surface area
Minimises pressure drop
Prevents drainage layer from separating from the coalescing layer
Inter pleat microfibres
Accelerated drainage of the coalesced liquid
Larger volumes of liquid can be separated
Flow interruption does not affect operation of differential pressures
First-class Efficiency
99.99%

efficient at removing aerosol particles
Down to 1ppbw

in downstream oil content
No re-entrainment
Deploy Industry Accredited Technology
With 30+ years of experience leading onshore and offshore installations at a global scale, you can be assured our products are trusted by industry accreditation bodies.
Customer Service You Can Rely On
We pride ourselves on delivering an exceptional customer experience. From product installation to long-term support, our expert team is there every step of the way.
First class service performance
On-time project delivery
Same-day dispatch capabilities
Quick customer query response times
Expert support
A Cost-effective Solution
At Amazon Filters, we don't just provide a single solution. We work with your business to deploy, install, and support your chosen coalescing solution, specifically to your requirements.
Long-term cost savings with reliable, trustworthy process filtration
20% savings in annual consumable costs when compared to leading competitor solutions
Guaranteed continuity of supply, so processes aren't interrupted
Transparent customer service