SupaPore FP
SupaPore FPG Microfiltration cartridges have been designed as effective membrane prefilters and as final polishing filters for all liquid processing applications.
Manufactured using polypropylene for the hardware, the SupaPore FPG utilises a superior Borosilicate Glass Microfibre as the media. This highly efficient pleated depth media offers excellent dirt holding capacity and retention levels, making it an ideal clarifier in many liquid processing applications. Its thermally bonded construction ensures minimal extractables and its high filtration efficiency makes it an excellent choice for use in beverage, fine chemical & water treatment processes.
The construction utilises thermal welding techniques to bond all the components therefore eliminating adhesives andextractables and optimising cartridge integrity.
The SupaPore FPG cartridges use pleated depth media and are available in Standard and Junior sizes with micron ratings from 0.3µm to 10µm in the full range of industry standard lengths and end cap styles.
For fine filtration and microorganism control in beverage applications Amazon offers the special SupaPore FPW range of filters.
Product Features
Borosilicate Glass Microfibre media
Epoxy binding for maximum compatibility
Polypropylene hardware with Polyester drainage layers
Absolute removal ratings Beta ratio 5000
Modular construction
Standard and Junior Configurations
Graded density media for optimum dirt holding capacity
Materials meet US FDA CFR Title 21 requirements
All polmeric materials meet the requirements for food contact as detailed in European Regulation (EC) Number 1935/2004
Suitable for most sanitisation regimes including steaming, autoclaving, hot water flush and most common sanitising agents.
(Note: Steaming, autoclaving and hot water sanitisation must use the glass filled end-cap option)
Amazon Filters manufactures a comprehensive range of filter housings for SupaPore cartridges including the industrial 50 and 60 Series and the 70 Series for hygienic applications. Please consult our Sales Office for further details on the full range.
Features and Benefits
Absolute removal ratings for consistent and reliable performance
Pleated depth media for maximum dirt holding capacity
High surface area giving high flow rates and low initial pressure losses
Range of Absolute ratings from 0.3 to 10µm
Thermal bonding process eliminates adhesives and ensures minimal extractables
Identification mark on every cartridge
Full product guide available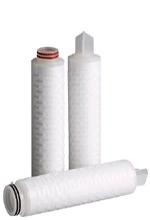 What
What Working With Amazon Filters Can Do For You
By shifting the focus to lifetime savings, you can ensure consistent, high-quality output without impairing production; all whilst improving your bottom line.
Ensure your product quality
Our filters can directly replace your existing filters ensuring the quality remains the same
The Amazon F4P approach
Our technical experts can audit your process to ensure you get the best process at the best price.
Manage your stock, logistics and delivery
Flexible delivery options ensure you have the stock where and when you need it, with no downtime.
Help you reduce manufacturing cost
Amazon can guarantee a minimum 10% saving on annual spend.
Transparent customer service
We'll work with you, how and when you want. No excuses - just honest, transparent customer service, backed by years of experience.
Let's Get Started
WE'LL MAKE SURE YOU'RE GETTING THE BEST OUT OF YOUR FILTRATION SYSTEM
Call our team on +44 (0) 1276 670600 or email us below