Let's explore the different methods adopted when challenged with providing reliable chlorine removal solutions for public water supply.
DE-CHLORINATION – TREATMENT
There will be occasions when water destined for public water supply, that has already been treated with chlorine, will have to be released back into the local water-course. Occasions such as filter backwash water, lagoon discharges, raw water, and treated water that cannot be put into supply (such as during treatment start-up or out of spec) are all instances where chlorine must be fastidiously removed from the water destined for discharge.
Due to the risks to the environment, it is appropriate that the Environment Agency monitor and set limits on the discharge of treated (specifically chlorinated) water. Permits must be sought by water companies needing to discharge water into the local water-course and as a result, the de-chlorination method chosen by the respective water company must be robust, cost-effective but above all, reliable. It is vital that compliance is maintained, and that the environment is protected.
There are several recognised methods available to de-chlorinate water; automated chemical dosing, manual chemical dosing, and manual carbon dosing for example. However, these methods can incur high costs, especially when automation is involved. Manual methods can be less reliable and there is a risk of overdosing with de-chlorination chemicals which can themselves have harmful impacts (such as de-oxygenation or lowering the pH of the water). In addition, these methods can accrue significant labour costs.
Depending on the location of the sites, the above methods can also present difficulties. Often, the more remote the site, the greater the difficulty to implement these solutions effectively.
CHLORINE REMOVAL USING FILTRATION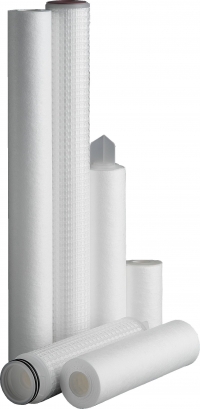 Activated carbon filtration is another method of chlorine removal. It is a relatively low-cost option and, above all, reliable. There are health and safety advantages related to using activated carbon block cartridges with regards to disposal. Importantly, there is also a flexibility of assets in terms of potential future use.
Filter cartridges using activated carbon are designed for de-chlorination eliminating the over-dosing risks associated with manual chemical dosing, as well as greatly reducing health and safety risks to employees. Above all, maintaining regulatory compliance and environmental protection.
The SupaCarb 06BP from Amazon Filters utilises the very best in activated carbon block technology, it incorporates both granular and powdered carbons for the highest levels of chlorine reduction possible with activated carbon block cartridges.
---
DE-CHLORINATION SOLUTIONS FROM AMAZON FILTERS
Amazon Filters provide solutions for de-chlorination of municipal water and effluent water, which provides a reliable and cost-effective means to processing your water.
Our filtration solutions cater for the effective removal of chlorine from previously chlorinated water prior to discharge, waste or release into a local water-course.
Amazon Filters produce modular packages which are supplied as ready-to-install skids, pre-fitted with pipe work, valves and monitoring devices, for quick and easy installation within an existing water treatment system. It is also worth noting is that minimal maintenance is required with regard to the cartridge change-outs and replacements.
Crucially, the design of Amazon Filters' modular filter cartridges means that these filters can be installed in an existing water-treatment system at short notice, either skid mounted or in 20' and 40' containers. They are the perfect solution where unexpected, unplanned problems occur.