86 Series
The 86 Series (86A and 86B) has been designed to meet the demands of most liquid and gas processing applications where 7″ diameter bag filters have been selected. They are designed for either single or double length bags and flow rates up to 30 m3/hr. The 86A novel cast head incorporates an integral one piece inlet connection with top mounted vent point, whilst the 86B has been designed with an integral one piece head with both inlet and outlet connections set In-Line.
Their robust construction suits all areas of chemical and liquid processing plants. With minimal product hold up volumes and easy access to the disposable filter bag via the retained hinged lid, operators will always favour this style of housing when given a choice.
Safety is also greatly improved for hazardous or high temperature fluids:
The 86A's top entry, bottom outlet configuration holds almost 20% less in volume than the conventional side entry housing, whilst the 86B's unique side entry and exit connections make for the easiest of installation over the more conventional housings in the market today.
Two housing sizes are available for the 7" diameter bags, P1 (16") single length and P2 (32") double length. Our perforated basket retains most standard commercially available filter bags found on the market today including steel ring, moulded polypropylene and many other types.
86A Features and Benefits
Investment cast top cover and inlet connection
Swing bolt assemblies with eyenuts
Vent tapping point on cover
Wide range of options available for connection sizes and types
Each housing is etched with a unique serial number for full traceability
Housing customisation service available
PED and ATEX compliant
86B Features and Benefits
In-Line connections for ease of installation
Minimum floor space requirements
Investment cast top cover and connections
Swing bolt assemblies with eyenuts
Vent tapping point on cover
Clean drain point
Each housing is etched with a unique serial number for full traceability
Housing customisation service available
PED and ATEX compliant
Download the 86A Series datasheet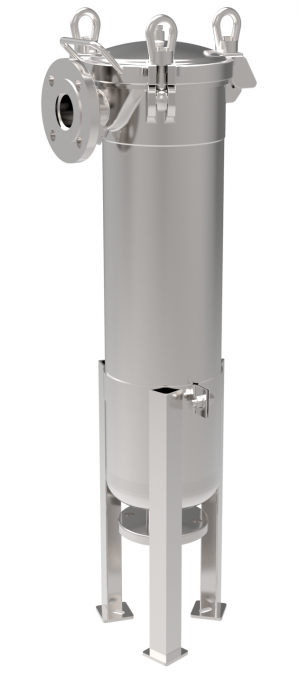 Let's Get Started
WE'LL MAKE SURE YOU'RE GETTING THE BEST OUT OF YOUR FILTRATION SYSTEM
Call our team on +44 (0) 1276 670600 or email us below