SupaPore TP Screw Thread Vents
SupaPore TP vent filters are specifically designed for venting applications on tanks and vessels and to be used as vacuum break filters for autoclaves. They are manufactured using a naturally hydrophobic PTFE membrane to ensure high flow rates and low pressure drops are achieved under a wide range of conditions.
All cartridges are thermally bonded and adhesive free to provide a robust filter. These filters are fitted with a ½" BSP male connector so can easily be fitted to autoclaves and other process equipment.
Product Features
A naturally hydrophobic PTFE membrane rated at 0.02µm in air and gas
Polypropylene support
Minimal fibre migration
High flow rates and low pressure drops
Available as 2" and 5" length cartridges
½" BSP male connectors
Can be repeatedly steam sterilised
The use of a naturally hydrophobic membrane in SupaPore TP cartridges helps prevent the filter from wetting-out during use. This is critical in applications where water vapour is present to ensure that air flow into and out of the equipment is maintained. Typical applications include tanks containing liquids at elevated temperatures and autoclaves where steam may come into contact with the filter.
The use of an absolute rated membrane means that removal efficiency is maintained independent of flow rate. This allows the high flow characteristics of SupaPore TP vent filters to be utilised and smaller filters to be used.
Features and Benefits
High flow rates allow the use of smaller filters
Absolute rating assures performance even at high flow rates
Hydrophobic PTFE media prevents wetting out of the filter
½ " BSP male connector so can be easily installed
Full Product Validation Guide available
All SupaPore cartridges are manufactured under strict control with batch number identification, giving full traceability on all components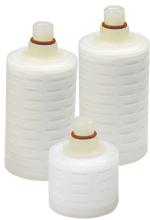 What
What Working With Amazon Filters Can Do For You
By shifting the focus to lifetime savings, you can ensure consistent, high-quality output without impairing production; all whilst improving your bottom line.
Ensure your product quality
Our filters can directly replace your existing filters ensuring the quality remains the same
The Amazon F4P approach
Our technical experts can audit your process to ensure you get the best process at the best price.
Manage your stock, logistics and delivery
Flexible delivery options ensure you have the stock where and when you need it, with no downtime.
Help you reduce manufacturing cost
Amazon can guarantee a minimum 10% saving on annual spend.
Transparent customer service
We'll work with you, how and when you want. No excuses - just honest, transparent customer service, backed by years of experience.
Let's Get Started
WE'LL MAKE SURE YOU'RE GETTING THE BEST OUT OF YOUR FILTRATION SYSTEM
Call our team on +44 (0) 1276 670600 or email us below