SupaCarb CP
SupaCarb CP offers the very best in activated carbon technology. The cartridge is manufactured using a unique sintered carbon that is specifically designed for maximum decolourisation and organic contaminant reduction. It offers far superior adsorption levels when compared to other carbon block cartridges.
SupaCarb CP is an extremely economical and effective solution to many common liquid treatment applications where the reduction of colour, organics and other impurities is required. The carbon block is made using a high purity micro-porous, acid washed, steam activated carbon and is particularly suited to pharmaceutical applications.
Product Features
Unique sintered block using both granular and powdered carbon
Spun bonded polypropylene prefiltration layer
Modular construction from 5mm segments to 1018mm (40") long cartridges, suitable for laboratory, pilot plant and production scale operations.
The SupaCarb CP carbon block uses a unique sintering process that combines both granular and powdered activated carbon. This results in the highest available surface area for adsorption of contaminants. The carbon block is protected by a spun-bonded, pure polypropylene fibre prefiltration layer, to produce a unique high performance module, offering superior on-stream life.
SupaCarb CP cartridges are manufactured using the latest thermal welding technology, eliminating bypass commonly associated with adhesive bonded carbon modules. This results in a robust and durable filter assembly, particularly suited to a wide range of process conditions, including use in the harsh operating conditions encountered in pharmaceutical API plants.
Features and Benefits
Combination of both granular and powdered activated carbon offers superior contaminant adsorption levels
High active carbon content per module results in the use of smaller installations, less space required and lower costs
Convenient low-weight cartridge format is easy to handle and modules can be changed-out without using lifting gear, special tools or other apparatus
High purity micro-porous steam activated powdered carbon is particularly suited to removal of coloured impurities from pharmaceutical product and solvent streams.
Graded density prefiltration layer protects carbon block offering extended life
Thermally bonded construction eliminates fluidising, channelling and bypass
All polymeric support structure offers excellent chemical compatibility
Each cartridge is embossed with an identification number and fully traceable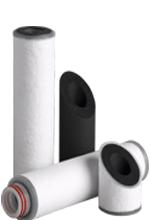 What
What Working With Amazon Filters Can Do For You
By shifting the focus to lifetime savings, you can ensure consistent, high-quality output without impairing production; all whilst improving your bottom line.
Ensure your product quality
Our filters can directly replace your existing filters ensuring the quality remains the same
The Amazon F4P approach
Our technical experts can audit your process to ensure you get the best process at the best price.
Manage your stock, logistics and delivery
Flexible delivery options ensure you have the stock where and when you need it, with no downtime.
Help you reduce manufacturing cost
Amazon can guarantee a minimum 10% saving on annual spend.
Transparent customer service
We'll work with you, how and when you want. No excuses - just honest, transparent customer service, backed by years of experience.
Let's Get Started
WE'LL MAKE SURE YOU'RE GETTING THE BEST OUT OF YOUR FILTRATION SYSTEM
Call our team on +44 (0) 1276 670600 or email us below