We have made a series of strategic hires to strengthen and grow our services for customers in process engineering industries worldwide.
Five new recruits have been appointed in departments dealing with filter housing operations and fabrication, product design and development, IT and despatch.
The move complements our continuing programme of investment in 'quick and able' manufacturing capacity and facilities at our Camberley production centre.
Senior operations professional Andy Manning is our new Housing Operations Manager, responsible for teams working on standard, customised and bespoke products and filtration packages.
He has more than 25 years' experience in process plant industries, most recently with the UK arm of a global oil and gas equipment and components supplier.
Among Andy's specialisms there were the provision of hardware and consultancy services for oil separation and produced water systems.
His previous roles included being a service operations manager for a UK water treatment supplier, where he managed a team of 30 service engineers.
Andy said: "I am thrilled to be on board to help Amazon Filters build on its continued success as a leading filter manufacturer.
"It's brilliant to see the investment that the company is making in its people, services and facilities, especially given the current impact of the pandemic on all kinds of industries, and I'm keen to play my part in its growth."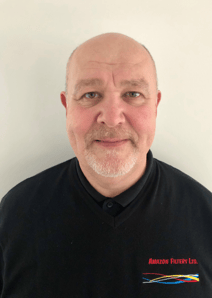 WELCOME ABOARD. Andy Manning is Amazon Filters' new Housing Operations Manager
Daniel O'Sullivan, appointed Housing Fabrication Team Leader, has extensive experience in industrial engineering having worked in the welding and sheet metal industry for more than 18 years.
He was most recently a Team Supervisor after successive promotions at a south east engineering firm.
Daniel said: "I made my way up through the ranks and felt the need for change. I'm excited to have the opportunity to work at Amazon Filters.
"On arrival here, I could see it had a friendly, professional and positive atmosphere and that instantly put me at ease.
"From top to bottom I have been met with positivity, a willingness to help and a great team to advise and help grow as a unit."
To strengthen our design department, we have appointed Ian Haffenden as Product Development Design Engineer.
Ian's responsibilities include taking conceptual proposals for filter housings and components through to implementation.
At the same time, our IT team has been bolstered with the arrival of Norman Fider as Desktop Support.
Reporting directly to Head of IT Adam Witherington, Norman will help manage and maintain the hardware and software underpinning critical business applications.
Adam said: "Norman's appointment puts us in a position to further realise our longer-term IT strategies."
Joining our busy despatch department is Despatch Team Member Callum Henry.
He will share in team responsibility for all picking and packing of finished goods for despatch, with further duties in stock control and maintaining a newly upgraded traceability system.
Neil Pizzey, Amazon Filters Managing Director, said: "We very much welcome Andy, Daniel, Ian, Norman and Callum as our five great new hires.
"Their skills and knowledge will make a vital contribution as we move forward with our growth strategy and services for core sectors including municipal water, oil and gas, chemicals and coatings, and healthcare.
"This is all about stimulating and delivering continued growth and being more competitive, more flexible and more responsive for new and existing customers here in the UK and overseas."
Follow our Careers page