81 Series
The 81 Series MINI 4¼" bag housing features the lightweight top opening style is equipped with a Vee clamp as standard for pressures up to 8.5 bar g. The new 81A Series MINI features the hinged cast top opening with Stainless Steel Swing Bolts as standard and is suitable for pressures up to 21 Bar g.
These housings are widely used where low cost is of prime importance and this makes them the ideal choice to replace conventional cast stainless steel strainers. The side inlet and bottom outlet configuration is perfectly suited to duties where product changes demand a simple to clean, easy access housing. With only the basket to remove, quick and efficient cleaning is possible with the 81 Series MINI bag housing.
Heating jackets are options available for all models.
Both the 81 and 81A Series MINI housing will accept the full range of Amazon and industry standard bags ranging from 1 to 1000µm with nominal lengths of 7" (P3) and 14" (P4).
Product Design Features
Designed for flow rates up to 6.5 m3/hr
81 – Vee clamp closure for pressures up to 8.5 bar g up to 110°C
81A – Flat bolted closure for pressures up to 21 bar g up to 150°C
ATEX rated
Bead blast or electropolished as standard
Robust bag support basket assembly fabricated from perforated sheet rather than wire mesh for extra strength
Wide range of options available for connection sizes and types and materials of construction
Available in 316L stainless steel
PED and Compliant
Features and Benefits
Integral vent to aid efficient operation
Easy to operate, quick opening closures on both models
Each housing is etched with a unique serial number for full traceability
Full housing customisation service available
Download the 81 Series datasheet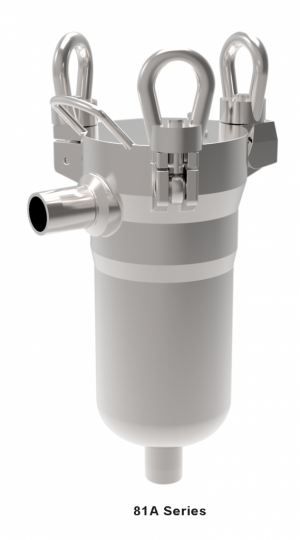 Let's Get Started
WE'LL MAKE SURE YOU'RE GETTING THE BEST OUT OF YOUR FILTRATION SYSTEM
Call our team on +44 (0) 1276 670600 or email us below