66 Series FFC Single Round
The 66 Series FFC housing is a version of Amazon's successful 66 Series FFC range and specifically designed for use with the large bore SupaPleat FFC or SupaSpun FFC cartridge. This provides a filtration system that offers maximum efficiency, high flow rates and long life. The high quality electropolished 316L stainless steel housing is easy to use and is suited to many filtration processes across a range of industries.
They are available in a selection of sizes and with a choice of connections and closure types, therefore the optimum housing can be provided for each application.
The 66 Series FFC housing is available to be used with 20", 40" or 60" cartridges. The cartridge is normally operated in 'out to in' mode.
Housings can be installed in either the vertical or horizontal position and can be supplied with fixed or adjustable legs. This ensures that the housing can normally be used even where space or changes to inlet and outlet pipework are limited.
Product Features
Designed for high flow systems
Easy and quick cartridge change-out
Electropolished inside and out
Available for 20", 40" or 60" filters
Each housing is hydrostatically pressure tested
Available with 3"or 4" connections and in a range of types
Can be supplied with adjustable or fixed legs where required
Rated at 10 bar g liquid, 3 bar g gas
PED and ATEX Compliant
Features and Benefits
Designed for use with the SupaPleat FFC or SupaSpun FFC cartridge for maximum flow rates
Utilises large bore cartridge allowing quick and easy filter change out
Can be used vertically or horizontally with or without legs
Flexible design allows use of either V band or Rathmann clamp closure
Full housing customisation service available
Download the 66 Series FFC Single Cartridge Housing datasheet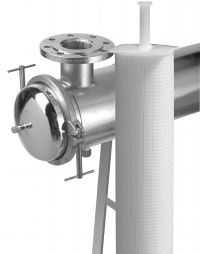 Let's Get Started
WE'LL MAKE SURE YOU'RE GETTING THE BEST OUT OF YOUR FILTRATION SYSTEM
Call our team on +44 (0) 1276 670600 or email us below