SupaPore TP
SupaPore TP Microfiltration cartridges have been designed specifically for use in a wide range of aggressive gas and liquid processing applications
Its naturally hydrophobic PTFE membrane makes this cartridge an ideal choice for systems requiring excellent compatibility, reliability and a consistently high quality filtrate.
Product Features
A naturally hydrophobic PTFE membrane rated at 0.2µm in liquids and 0.02µm in gases
Polypropylene support
Minimal fibre migration
Wide chemical compatibility
Validation by bacterial and aerosolised bacteriophage challenge
Junior cartridge available
All cartridges are thermally bonded and adhesive free. Each unit is pre-flushed with ultra-pure water and integrity tested before final assembly*1.
Can be steam sterilised
Sanitisable
Meet current US FDA CFR Title 21 requirements
Fully integrity testable by Water Intrusion, Bubble Point or Diffusion Flow test*1
All B grade modules are integrity tested during manufacture
Available in a wide range of grades & absolute rated pore sizes:
0.1, 0.2, 0.45, 1.0µm and solvent grade
General Grade
Biological Grade
Suitable for most sanitisation regimes including steaming, autoclaving, hot-water flush and most common sanitising agents.
(Note: Steaming, autoclaving and hot water sanitisation must use the glass filled end-cap option)
Amazon Filters manufactures a comprehensive range of filter housings for SupaPore TP cartridges including the industrial 50 and 60 Series and the 70 Series for hygienic applications. Please consult our Sales Office for further details on the full range.
Features and Benefits
Fully Integrity Testable – Water Intrusion, Bubble Point and Diffusional Flow values provided for all biological grade pore sizes*1
Validated*2 removal ratings for consistent and reliable performance
Feature naturally hydrophobic PTFE membrane and polypropylene hardware
Thermal bonding process eliminates adhesives and ensures minimal extractables
Identification mark on every cartridge
Full Product Validation Guide available
*1 B grade only *2 See product guides for further details stating test method and rated efficiencies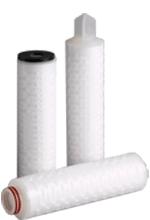 What
What Working With Amazon Filters Can Do For You
By shifting the focus to lifetime savings, you can ensure consistent, high-quality output without impairing production; all whilst improving your bottom line.
Ensure your product quality
Our filters can directly replace your existing filters ensuring the quality remains the same
The Amazon F4P approach
Our technical experts can audit your process to ensure you get the best process at the best price.
Manage your stock, logistics and delivery
Flexible delivery options ensure you have the stock where and when you need it, with no downtime.
Help you reduce manufacturing cost
Amazon can guarantee a minimum 10% saving on annual spend.
Transparent customer service
We'll work with you, how and when you want. No excuses - just honest, transparent customer service, backed by years of experience.
Let's Get Started
WE'LL MAKE SURE YOU'RE GETTING THE BEST OUT OF YOUR FILTRATION SYSTEM
Call our team on +44 (0) 1276 670600 or email us below