SupaPore Halar
SupaPore Halar filters are constructed using Halar fluoropolymer media offering a unique combination of mechanical properties and thermal and chemical resistance. These filters are specifically designed to offer excellent compatibility and effective removal of particulates from solvents, solvent based liquids and ozonated water.
SupaPore Halar filters offer greater compatibility than polypropylene media filters at a cost that is typically lower than PTFE membrane cartridges. The advanced pleated meltblown media used in these filters provides both high flow rates and long life. They are also available with nylon 6 cage, core and end-caps to widen the range of applications SupaPore Halar filters can be used in.
Industries and Applications
The availability of high purity, particulate free solvents is also important to many industries including manufacturers of Active Pharmaceutical Ingredients (API), fine chemicals and micro-electronics products. Typical applications include:-
API / Fine Chemical manufacturing
Removal of fine particulates from product streams
Clarification of chemicals used for product synthesis
Filtration of solvents used for purification of crystallised compounds
Microelectronics industry
Particle removal from chemicals and solvents used for microchip production
Water treatment
The use of ozone to control bioburden in purified water systems is increasing and ozonated water can damage standard polypropylene cartridges. SupaPore Halar cartridges are excellent for this application, exhibiting enhanced compatibility for water dosed with ozone. They are also used as vent filters to protect water tanks from particulate contamination.
Compatibility*1
SupaPore Halar filters offer improved compatibility with a wide range of chemicals and solvents including:-
Acetone
Acetonitrile
Acetic acid (100%)
Diethyl Ether
DMAC
DMF
DMSO
Ethanol
Ethyl acetate
Hexane
Hydrochloric Acid
MIBK
Methanol
MTBE
n Heptane
Ozonated water
Sodium Hydroxide
THF
Toluene
Xylene
(*1 Chemical compatibility of filters can be affected by so many process factors (e.g. temperature, exposure time etc). Filters should be pre-tested under users own process conditions using appropriate safety practices in order to confirm compatibility.)
Amazon Filters manufactures a comprehensive range of PED and ATEX compliant filter housings for use with SupaPore Halar cartridges. This range includes the industrial 50 and 60 Series housings and the hygienic 70 Series. We are also able to offer the ClearView housing containing a 'window' to allow on-line visual monitoring of the process. Please consult our Sales Office for further details on the full range.
Features and Benefits
Broad chemical compatibility with a range of solvents and chemicals at an attractive cost
Available with either polypropylene or nylon hardware
High flow rates, low pressure drops, long life and low extractables
Manufactured under strict control with batch number identification, giving full traceability on all components
Materials USP Class VI Plastics tested and meet US FDA Title 21 requirements
Full Product Validation Guide available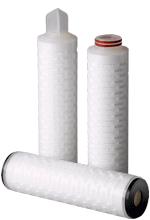 What
What Working With Amazon Filters Can Do For You
By shifting the focus to lifetime savings, you can ensure consistent, high-quality output without impairing production; all whilst improving your bottom line.
Ensure your product quality
Our filters can directly replace your existing filters ensuring the quality remains the same
The Amazon F4P approach
Our technical experts can audit your process to ensure you get the best process at the best price.
Manage your stock, logistics and delivery
Flexible delivery options ensure you have the stock where and when you need it, with no downtime.
Help you reduce manufacturing cost
Amazon can guarantee a minimum 10% saving on annual spend.
Transparent customer service
We'll work with you, how and when you want. No excuses - just honest, transparent customer service, backed by years of experience.
Let's Get Started
WE'LL MAKE SURE YOU'RE GETTING THE BEST OUT OF YOUR FILTRATION SYSTEM
Call our team on +44 (0) 1276 670600 or email us below