SupaPleat B-Blue
SupaPleat B-Blue filters are Absolute rated to ensure reliable and consistent performance over a wide range of process conditions. This makes these cartridges the ideal choice for a wide range of applications.
These filter cartridges are manufactured from pleated polypropylene depth media, end caps and internal support core.Thermal welding processes seal all components, eliminating adhesives and extractables and optimising cartridge integrity. In-house developments have optimised the pleat pack ensuring rigidity is maintained at all flow rates.
SupaPleat B-Blue cartridges feature:
High surface area melt blown polypropylene media
XP Extended life version available
Wide chemical compatibility
Special CRY Cryptosporidium removal grade designed for Food and Beverage applications
All cartridges are thermally bonded and adhesive free
Meets requirements on materials used for articles intended to come into contact with food as described in CFR Title 21, as well as the appropriate European guidelines
Manufactured under strict control with batch number identification, giving full traceability on all components
Absolute Rated Filter Media
Available in Absolute ratings from 0.5 to 50µm
Consistent and reliable performance under a wide range of process conditions
Beta 5000 rating
Filter Housings
Amazon Filters supplies both stainless steel and plastic housings for SupaPleat B-Blue filters. Please consult our Sales Office for further details on these ranges.
Features and Benefits
High flow rates and long life help to minimise filtration costs
High capacity filters means less filters to change-out
Absolute removal ratings for consistent and reliable performance
Wide chemical compatibility
Available in numerous removal ratings (0.5 – 50µm) so suitable for a wide range of applications
Extended life version available for more challenging applications
Cryptosporidium removal grade (CRY) with typical 104 log reduction value
Full Product Validation Guide available
Manufactured under strict control with batch number identification, giving full traceability on all components,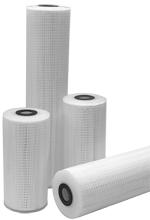 What
What Working With Amazon Filters Can Do For You
By shifting the focus to lifetime savings, you can ensure consistent, high-quality output without impairing production; all whilst improving your bottom line.
Ensure your product quality
Our filters can directly replace your existing filters ensuring the quality remains the same
The Amazon F4P approach
Our technical experts can audit your process to ensure you get the best process at the best price.
Manage your stock, logistics and delivery
Flexible delivery options ensure you have the stock where and when you need it, with no downtime.
Help you reduce manufacturing cost
Amazon can guarantee a minimum 10% saving on annual spend.
Transparent customer service
We'll work with you, how and when you want. No excuses - just honest, transparent customer service, backed by years of experience.
Let's Get Started
WE'LL MAKE SURE YOU'RE GETTING THE BEST OUT OF YOUR FILTRATION SYSTEM
Call our team on +44 (0) 1276 670600 or email us below