Containerised Plug & Play Systems
Ensuring sufficient drinking water of the required quality can be a real headache when confronted with todays environmental fluctuations. Lack of water caused by drought, or too much causing flooding can all have a serious impact on guaranteeing quality of supply. It seems as if the fluctuation in our weather is only set to become more frequent and severe in the future
When water quality drops or additional water sources need to be commissioned; especially in times of drought, the locations are often remote and difficult to access. Our containerised systems are configurable from 3.8 to 30 Ml/day and are available in standard shipping container formats or trailer mounted versions.
The flexibility of cartridge filtration means that problems such as high turbidity, contamination with crypto or chlorine, iron and manganese reduction can all be addressed with the same unit simply by installing different specification cartridges. This all means this important asset is not just tied to one specific water quality problem.
360° Container View - Click To Rotate
Plug & Play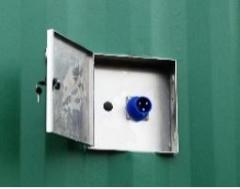 Installing the filtration equipment into an existing line is easy with the inlet and outlet connections designed to be compatible with whatever you specify.
Once connected to water and power via the pilfer boxes the system can be brought on-line in minutes.
Comfortable working conditions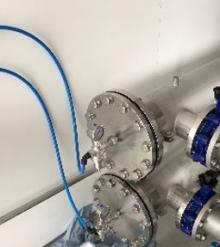 These are self-contained units that are provided with heating, ventilation, lighting, and a cleaning / disinfection station. Specially designed access steps are included to provide safe manual handling during filter changeouts while racking is provided for safe filter cartridge storage
Upstream and downstream sampling points are located adjacent to the sink allowing easy and comfortable analysis of water samples. This all means that even when installing in relatively remote locations the working environment doesn't have to suffer.
Remote Condition Monitoring
Installed as standard are sensors for inlet and outlet turbidity, flowrate and filter differential pressure.
All sensors have wireless protocols to allow remote monitoring of the water quality being introduced into the network as well as timely maintenance of the filtration system to maintain flowrates and quality.
Application and Flowrate specific
A wide range of units are available to suit both application and flowrate. The benefit of using a cartridge-based system is that it can be adapted to the specific problem at each location.
Potential crytosporidium contamination? Install our SupaSpun R31. New bore hole brought on-line but has high iron levels? Install our SupaSpun R31. Need to chorinate your system and flow waste to a water course? Install our SupaCarb.

Custom Made Enclosure

Quality Guaranteed
Amazon filters have supplied filtration equipment into the municipal water market for over 30 years. We are continuously working with your innovation teams to identify new viable solution based on filter cartridge technology.
Our manufacturing facility and processes are registered to current ISO 9001, 14001 and 45001 for Quality, the Environment and Health & Safety. We consistently achieve outstanding ratings from supplier assessment audits such as Achilles UVDB.
All filtration materials are FDA, USP and EU food compliant were applicable and our products are DWI approved to ensure trouble free introduction of our filters and systems into your municipal water process.


Rental Solutions
Don't have the necessary filtration asset to deploy quickly?
Then why not rent?
During periods of hot weather and minimal rainfall we understand a number of water quality problems can arise in the short to medium term, as mothballed resources are brought back on-line and low water levels cause problems with existing filtration equipment and processes.
Ensure your customers continue to receive excellent quality water by installing our mobile filtration skid units
Let's Get Started
WE'LL MAKE SURE YOU'RE GETTING THE BEST OUT OF YOUR FILTRATION SYSTEM
Call our team on +44 (0) 1276 670600 or email us below