Quality Assurance
Amazon Filters are certified to ISO 9001-2015, with the scope defined as 'Design, Manufacture Stockholding and Supply of Liquid Filtration Systems'.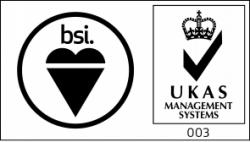 We first achieved full accreditation in 1998; however, the main requirements of our quality system had been in place for many years before this, and were therefore well established.
Our accreditation body is the British Standards Institute and our certificate no. is FM 39584.
We believe that the choice of accreditation body for ISO 9001:2015 is very important, and that is why we are proud to have chosen the British Standards Institute, one of the most prestigious and world renowned bodies.
Amazon believes that just achieving ISO 9001:2015 is only the starting point of our quality systems – much more is required in order to excel in this area. To this end, we are committed to:-
Preventative Action as a principle underpinning everything we do – we believe that any company can make a mistake but that it is a foolish company that makes the same mistake twice!
Investment in the latest manufacturing and test equipment, to ensure that our product ranges are at the cutting edge in our industry.
Recruiting and developing our people, so that they are confident, willing and able to strive for continuous quality improvement.
Target setting and benchmarking in all areas. We firmly believe that the way to improvement is the setting and achievement of attainable targets at all levels within the company.
Analysis and review of quality trends. We believe that senior management involvement is essential in analysis of trends, and that quality can only be achieved and improved if everyone in the company is committed to it.