The standard is made up of many individual standards for every aspect of critical process equipment design and manufacture. Being constantly updated means that it is always encompassing new material and fabrication technologies.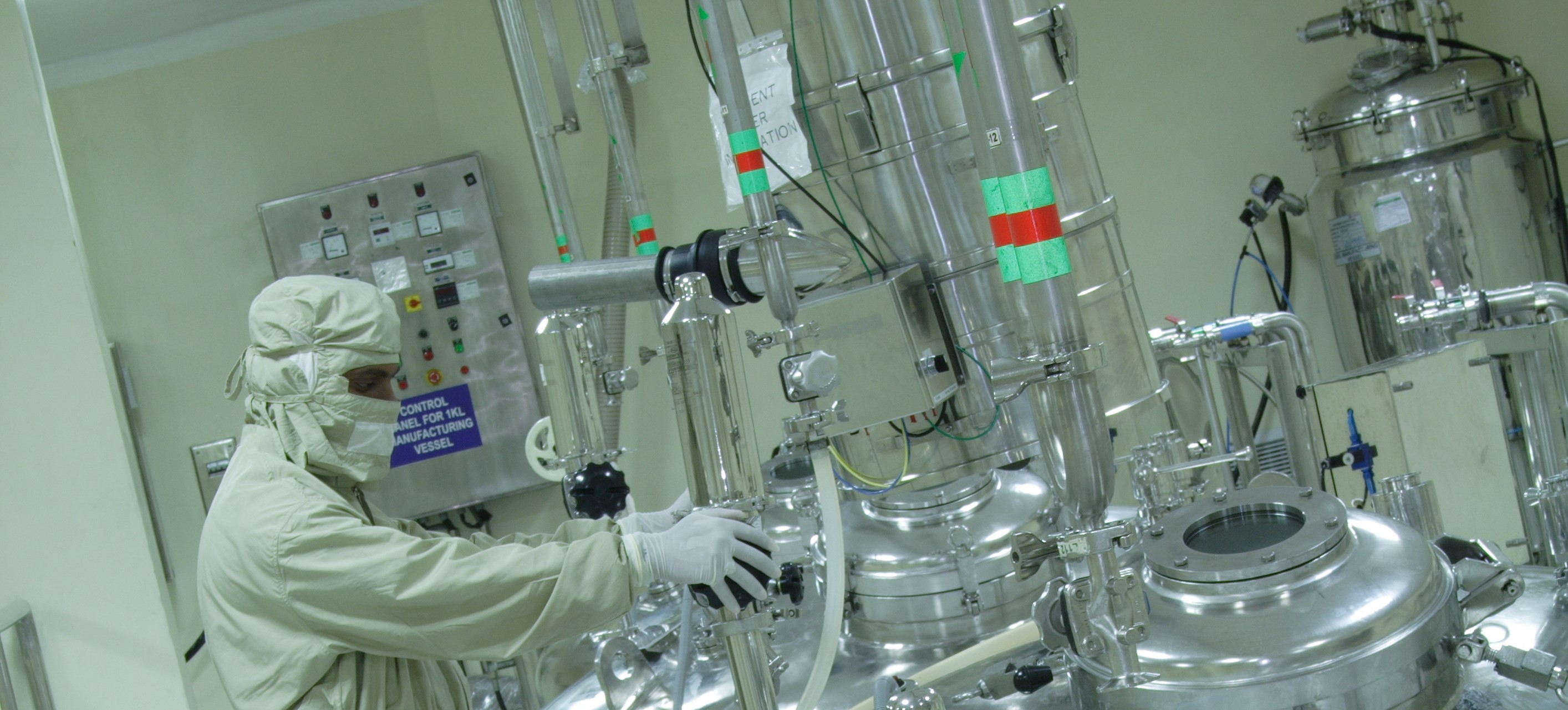 In this Blog we will focus on the standard relative to process filter housings.
When first introduced, the additional cost of BPE filter housings over standard hygienic designs was onerous and the adoption of the standard was limited. There was a desire to implement the 'gold' standard, but the additional cost was not, in a lot of cases, justifiable…or financially viable. Now, with the increased adoption of the standard, costs are reducing and the step up to BPE carries typically small premium over a 'standard' hygienically designed housing for Pharma.
Is your process worth it?
There are three main areas applicable to filter housings. Hygienic Design, Materials of Construction and Fabrication. We look at each in turn
Hygienic Design
If manufactured by a reputable company, all sanitary grade housings for industries such as Pharma and Food & Beverage should be designed to be as hygienic as possible and incorporate design elements such as sloping surfaces to ensure complete drainage of the solution, sanitary body closures and couplings. Ideally the filter housings should be designed to ensure effective 'clean in place' validation between batches. Worst case scenario is having to remove and disassemble filter housings to afford effective cleaning.

cross section showing slope to aid drainage
In addition to the physical geometry of the housing the surface finish also plays a crucial role in ensuring effective batch to batch cleaning. Most importantly the housing should be designed so the necessary access is available during manufacture to achieve the SF4 (0.38Ra) finish on all wetted surfaces.
Standard Pharmaceutical grade housing can have internal surface finishes anywhere between 0.4 and 0.8 Ra so conformance to BPE ensures the highest spec.
Materials of Construction
It goes without saying that for pharmaceutical applications, all elastomeric seals and 'o' rings need to have the relevant FDA 21CFR 177 and USP Class VI approvals.
The primary driver of ASME BPE is to select the most appropriate alloy for the application. This is mainly focused on reducing the chances of pitting corrosion, chloride stress corrosion cracking and rouging which can lead to batch-to-batch cross contamination due to residual product and microbes harbouring in the defects.
Standard 316L stainless steel (1.4404) is suitable for a significant number of applications but we are seeing more clients opting for 1.4435 for increased corrosion resistance to, for example, high purity water and steam. Amazon Filters use this grade in the new standard 76C & 72C range of sanitary housings conforming to BPE. The difference between the two grades is the increased levels of Chromium and Nickel in the 1.4435 grade. See table below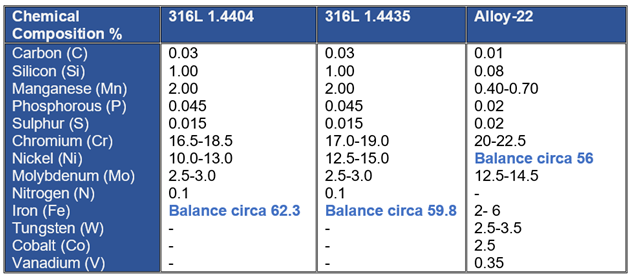 When compatibility becomes even more challenging, such as the filtration of high temperature and concentration acids & solvents such as Hydrochloric acid, the material selection is even more critical. This is when it may be appropriate to select Nickel based alloys such as Alloy-22 which have high percentage of Molybdenum and Chrome in addition to a significantly higher Nickel content. This grade offers greater compatibility with a wide range of oxidising and reducing conditions as well as exceptional pitting and crevice corrosion resistance.
The most important thing to remember is to work closely with your filtration supplier to match the required material specification to your application. This avoids over engineering and ensures the most cost-effective design is implemented.
Material Certification and Traceability
One important additional element of BPE over a standard Pharma grade filter housing is the level of supporting documentation. This is specifically around provenance and the certified chemical composition of the base materials used in the fabrication. This allows all materials to be traced back to the mill. All BPE grade housings should have a full documentation package linking all wetted and pressure retaining parts to the original mill 3.1 certificates. All component parts are received with clear identification marks prior to fabrication. It should be noted that these will often be removed by subsequent polishing stages so may not be visible on the finished filter housing.

Fabrication
Stainless Steel grades such as 1.4435 only confer the increased corrosion resistance if the welding is tightly controlled to limit ferrite (<3%) in the heat affected areas.
Due to the specific limit on ferrite, new weld procedures are required for both automated and manual welding. This necessitates specific weld procedures to be written and approved by a third party as well as welders being upskilled and approved. Levels of ferrite are measured and documented to ensure they remain in the acceptable limits.
Housing should be designed to allow as much automated welding procedures as possible. Geometries should be designed to allow welds to be fully ground to maintain the final specified surface finish.
At the end of the day it's all about RISK
All of this additional paperwork, specific materials and testing unsurprisingly adds costs to the build. Housings conforming to BPE typically cost at least 50% more than standard spec pharma housings, this is before premium materials such as Alloy-22 are used. So is it worth it?
This is really depends on what the financial and quality implications are in your process. Moving to a housing conforming to BPE lowers the risk of contamination of your process due to by-products caused by corrosion or batch to batch cleaning failures.
Pick and Mix
At Amazon filters we can supply a range of single stack filter housings conforming to ASME BPE. It may well be more appropriate in your process to choose certain aspects of the BPE standard ensuring your process is protected while minimising expenditure on capital equipment. We specialise in bespoke housing solutions so why not get in touch with our technical experts to help you specify the most appropriate level of specification for your individual process. If you would like to discuss your requirements now, just use our Live Chat facility.