Filter manufacturer Amazon Filters has turned round an emergency order from a water company after torrential rain threatened to put a treatment works out of action.
Successive downfalls and flooding in a short space of time substantially increased the turbidity, or dirtiness, of the incoming water to such an extent that the water treatment works usual filters were blocking every few hours.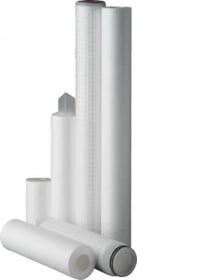 An urgent out-of-hours request prompted the Amazon Filters' night shift to source, pick and end-cap replacement filters to solve the problem.
The fresh supply, all available in stock and involving the firm's
absolute-rated depth filter SupaSpun II R31, was readied overnight for collection by the water company.
The speed of turnaround meant operators could install the new filters straight away to maintain continuity of water production levels and onward safe supply to households and businesses.
Amazon Filters Managing Director Neil Pizzey said: "When we received the call asking how quickly we could help their emergency situation, we acted immediately.
"It was clear the company was in urgent need. Instead of blocking every few hours, the filters they had would normally have an operational life of more than six months, so it was a very serious state of affairs.
"Our night shift dropped everything and put in a brilliant team effort, identifying that we had sufficient numbers of the base components in stock and making and readying of the required filters for immediate use.
"When we made the handover, the collection crew told us it was an 'amazing' example of service.
"The response we made was a prime example of our 'quick and able' manufacturing capacity, in this case to help a water company maintain the quality of the public drinking water supply.
"At the same time, it serves to underline our continual message to the water industry to always make sure adequate replacement filters are kept on hand and, as required, to have rental filtration units available for emergencies and potential interruptions.
"This message has only become more prescient with the extreme weather events we are all seeing, whether flooding or drought, that can easily overwhelm the essential infrastructure behind the water supply."
Amazon Filters has made and supplied critical filtration solutions to the water industry in the UK and Europe for 38 years.
Its products and equipment enable water companies to guarantee a consistent, cost-effective level of quality for safety and regulatory compliance.
SupaSpun II is on the approved list for use in the UK public water supply under the Drinking Water Inspectorate's Regulation 31.
As well as turbidity control in times of flood and drought, Amazon Filters' input supports essential activities such as chlorine reduction and the removal of iron, manganese, cryptosporidium and other contaminants and chemicals.
For more information, visit www.amazonfilters.com/industry/water-filtration