Oil and Gas companies are increasingly seeking to get optimum value from their production processes as they battle the economic impact of Covid-19
The pandemic is posing transformative challenges for a global industry already hit by low prices, surplus refining capacity and consumer and government pressure over the environment. Delivering projects on time and to budget will be key to ensuring essential cost control to help address the range of pressures and ensure a sustainable operating model.
One of the most critical processes in oil and gas production is water filtration and treatment. It's a pivotal contributory factor to protect process equipment while recovering oil and gas reserves, complying with environmental legislation, and ensuring high uptime of water injection systems.
Choosing the right partner for this critical application is key, not just to successfully deliver the project supply on budget and on time, but also to ensure the support of filtration experts during the operational lifecycle as process conditions change.
Amazon Filters partners on an offshore project with a major international package provider
The aim was to supply filtration equipment for the water treatment packages onboard a new-build FPSO (Floating Production, Storage, and Offloading) facility located off the Brazilian coast. The scope included seawater sulphate reduction (SRP) membrane pre-filters, produced water filters, and membrane cleaning (CIP) filters.
Recognising our joint client's ever more competitive market, Amazon Filters maximised the value-added content by providing the process sizing and outline vessel designs along with process internals. This meant the package provider could incorporate the internals into the pressure vessels which were fabricated locally in the country of destination, thereby helping to meet 'local content' requirements.
Technical solution
The internals, which secure and seal the filter cartridges in place, were based on Amazon Filters' proven designs and fabricated in our UK facility by ASME-qualified welders. Stainless steel construction included 25Cr super duplex, 22Cr duplex and 316L materials.
The filter cartridges in all polypropylene construction were in a range of micron ratings and each was optimised for their respective duties based on our extensive field experience in providing process filters on all three applications.
Amazon Filters' ability as filter experts and manufacturers provides the capability to adapt filter cartridge construction based on operational feedback and laboratory analysis of used cartridges against individual installations.
This means we can tailor filter cartridges to the particular loading experienced, along with the client's specific filtrate quality requirements.
Such capability supports the optimum blend of protection and cartridge life, to the benefit of reduced operational expenditure and minimisation of downtime.
Our Technical Experts
Amazon Filters Project Specialist Padrig O'Hara said: "We've put a lot of investment into our ability to be quick and able when meeting the critical needs of industries such as oil and gas. Our delivery of this particular project in Brazil confirms both our manufacturing capacity and global market reach."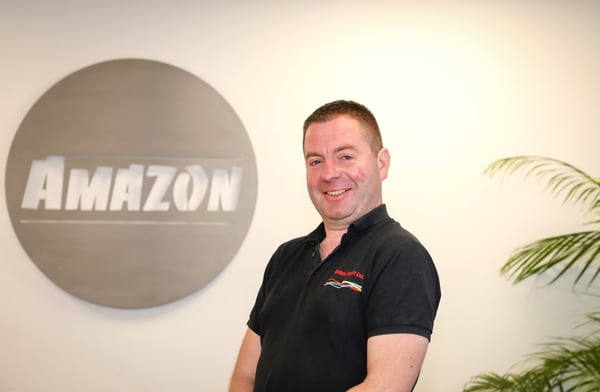 To discuss your technical requirements for water filtration projects email Padrig O'Hara, Amazon Filters Project Specialist, today.