84 Series
The 84 Series bag housings are designed for use with the industry standard DuoLine G Series 7" ring style bags widely used in today's process industry. The top opening style is equipped with a Cast Vee clamp as standard with the option of Rathmann style hinged and bolted closures for pressures up to 10 bar g and 150°C. The housing will accept the full range of Amazon and industry standard bags ranging from 1 to 1000µm with nominal lengths of 16" (P1) and 32" (P2) and Amazon's own 48" triple length bag.
The 84 Series is free standing with side inlet and outlet connections. These standard diameter filter housings offer great flexibility in terms of high flow and high dirt capacity whilst requiring only a limited footprint.
Use of the inverted dished end style free standing 84 Series housing is ideally suited to continuous process operations where economy and low volume hold up is paramount.
Product Features
Designed for either single, double or triple length bags and flow rates up to 40 m3/hr.
Positive bag seating mechanism to minimise risk of seal bypass
Robust bag support basket assembly fabricated from perforated sheet rather than wire mesh for extra strength
Internally and externally electropolished as standard
Wide range of options available for connection sizes and types and materials of construction
Vee clamp or hinged and bolted style closures
Inverted dished end
PED and ATEX Compliant
Features and Benefits
Integral vent to aid efficient filter changeout
Each housing is etched with a unique serial number for full traceability
Full housing customisation service available
Internally and externally electropolished as standard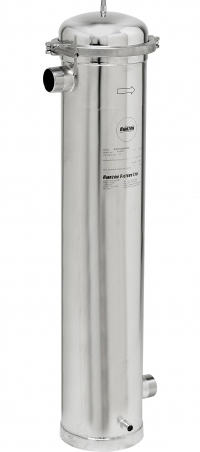 Let's Get Started
WE'LL MAKE SURE YOU'RE GETTING THE BEST OUT OF YOUR FILTRATION SYSTEM
Call our team on +44 (0) 1276 670600 or email us below