76B Series
Hygienic Style Single Stack Filter Housing
The 76B Series single cartridge housing is a high quality product specifically designed for critical applications.
It is manufactured to provide a 0.4µm RA crevice free sanitary finish on all internal surfaces. The hygienic design ensures the housing is easy to clean and can be sanitised or steam sterilised readily. The base of the housing provides a sump for collection of excess liquid/condensate where necessary.
76B Series housings are suitable for the filtration of both liquids and gases and will accept the full range of Amazon and industry standard code 7 (226) style single open-ended cartridges with nominal lengths of 10, 20 and 30".
For small scale applications a Junior version is available.
Product Features
0.4µm RA internal finish for critical liquid and gas applications
Rated at up to 10 bar and full vacuum in gases
Suitable for operating temperatures from –10°C up to 150°C
Plenum chamber for improved flow characteristics and condensate drainage
High quality cast Vee band clamp threaded closure for ease of use, safety and security
Offered with a wide range of connection sizes and types including Staubli connections
Available for a range of cartridge lengths
CE marked
Full traceability on all parts, material certification packs available
Features and Benefits
High quality crevice free surface finish to 0.4µm RA to assist in maintaining a sanitary system
Minimal pressure drops in high flow applications
Junior version available for small scale and pilot plant applications
Plenum chamber provides sump for condensate drainage
Rated at up to 10 bar and full vacuum in gases
Suitable for a wide range of process temperatures
Every housing is etched with a serial number for full traceability
Full housing customisation service available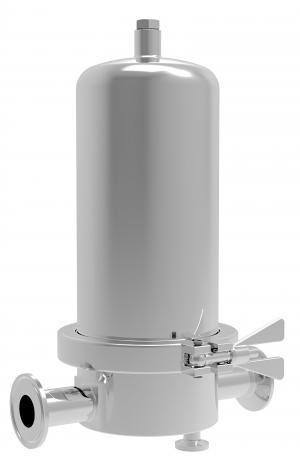 Let's Get Started
WE'LL MAKE SURE YOU'RE GETTING THE BEST OUT OF YOUR FILTRATION SYSTEM
Call our team on +44 (0) 1276 670600 or email us below