74 Series
The 74 Series single cartridge housing is available for elements up to 30" long. The plenum style configuration is ideally suited to both liquid and gas processes for pressures up to 10 bar g, full vacuum and 150°C.
Mounted inline, this plenum styled housing will suit processes where there is a need to allow easy access to all internal areas, therefore assisting in the general cleanliness of the process system in which the filter is to operate. Having no loose internal components ensures easy and fast clean down procedures.
The 74 Series housing will accept the Single Open End Code 7 cartridge with nominal lengths of 10, 20 and 30".
Product Features
Inline style construction with optional specification finish
Rated for pressures up to 10 bar g, full vacuum and 150°C.
Cast Vee clamp closure for ease of access
No loose internals for trouble free operation
Easy drain plenum feature for gas applications
PED and ATEX compliant
CE Marked
Features and Benefits
Suitable for a wide range of liquid and gas applications
Standard single open end cartridge fitting, using the Bayonet lock code 7 for forward and reverse flow
316L construction for maximum corrosion resistance.
Every housing is etched with a serial number for full traceability.
Wide range of options available for connection size, style and cartridge lengths
Full certification available, PED and ATEX compliant, CE Marked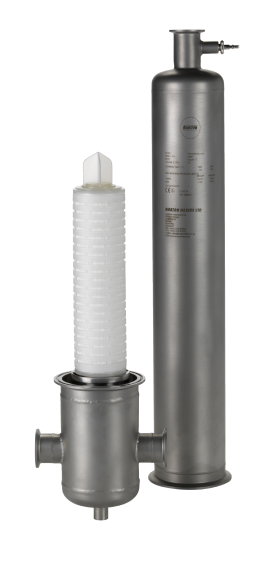 Let's Get Started
WE'LL MAKE SURE YOU'RE GETTING THE BEST OUT OF YOUR FILTRATION SYSTEM
Call our team on +44 (0) 1276 670600 or email us below