71 Series
The 71 Series Hygienic Vent filter cartridge housing is designed primarily for tank venting applications. The single common inlet / outlet connection is suited for direct mounting on to most sealed storage vessels, whilst the quick release seal-less Vee clamp closure allows for rapid filter changeouts.
These housings are ideal where free movement of clean air is of prime importance, and are designed for use with the full range of Amazon Single Open End code 7 cartridges ranging from 0.1 to 40µm with nominal lengths of 10 and 20".
Product Features:
Crevice free construction with hygienic single polished inlet/outlet port
Quick release Vee clamp closure for ease of access – no seal required
Lightweight easy lift dome
No loose internals for trouble free operation
ATEX compliant
Specifically designed as a vent filter
Single inlet/outlet that can be directly mounted onto tank
Rated up to 150°C and available for 10" or 20" cartridges.
Features and Benefits
Bayonet lock code 7 cartridge fitting as standard for forward and reverse flow
316L construction for maximum corrosion resistance
Every housing is etched with a serial number for full traceability
Wide range of options available for the connection size and style, cartridge lengths and materials of construction
Full housing customisation service available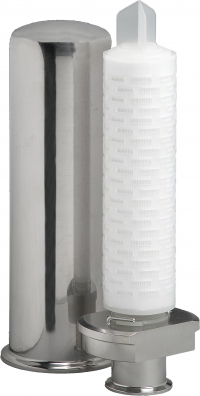 Let's Get Started
WE'LL MAKE SURE YOU'RE GETTING THE BEST OUT OF YOUR FILTRATION SYSTEM
Call our team on +44 (0) 1276 670600 or email us below