66 Series FFC Multi Round
The 66 Series FFC housing range is specifically designed for use with large diameter SupaPleat FFC and SupaSpun FFC cartridges to provide a liquid filtration system that offers maximum efficiency, high flow rates and long life. This range of multi-cartridge housings can accommodate 3, 4, 5 and 7 filter cartridges in either 40" or 60" lengths. The cartridges are normally operated in 'out to in' mode.
The housings are designed to be used in a horizontal orientation and have a hinged and bolted closure to enable easy opening and closing. These housings are particularly suited to large scale high flow applications. The use of high surface area large diameter cartridges, instead of standard diameter cartridges, can greatly reduce the time required for filter change-out. These high quality 316L stainless steel housings come fitted with a built-in stand and are available with a choice of connection types and sizes. To provide maximum convenience and safety, vent and drain ports are provided both upstream and downstream and the housing is fitted with lifting lugs. The housings are finished with a high quality external bead blast.
The 66 Series FFC housings can accommodate filters manufactured with either polypropylene of glass microfibre media and with wide range of removal ratings. Therefore they are suitable for a wide range of applications including water treatment and the production of beverages, chemicals and pharmaceuticals.
Product Features
Designed for high flow systems
Easy and quick cartridge change-out
Suitable for 3, 4, 5 or 7 cartridges 40" or 60" in length
Manufactured from 316L stainless steel
High quality finish
Each housing is hydrostatically pressure tested
Available with a range of connection types and sizes
Supplied with a built-in stand
Rated at FV/10 bar in liquids
PED and ATEX Compliant – CE Marked
Features and Benefits
Designed for SupaPleat FFC and SupaSpun FFC cartridges for maximum flow rates
Accommodates 3, 4, 5 and 7 cartridges of either 40" or 60" length so suitable for a wider range of applications
Utilises large diameter cartridges allowing quick filter change-out
Download the 66 Series FFC Multi Cartridge Housing datasheet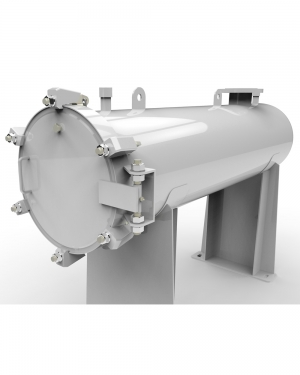 Let's Get Started
WE'LL MAKE SURE YOU'RE GETTING THE BEST OUT OF YOUR FILTRATION SYSTEM
Call our team on +44 (0) 1276 670600 or email us below