61 Series
The 61 Series multi cartridge housing is available with 3, 5, 7, 10, 12, 15, 18, 19 and 22 element stacks up to 40" long. The top opening style is equipped with a Cast Vee clamp as standard for pressures up to 10 bar g.
These housings are widely used where low capital cost is of prime importance. Being floor mounted and therefore free standing, these housings will suit most process applications. Bolted closures are an option available for all models.
The 61 Series will accept either standard Double Open End or Single Open End cartridges. This includes the full range ofAmazon and industry standard cartridges ranging from 0.1 to 500µm with nominal lengths of 10, 20, 30 and 40".
Accessories available include pressure gauge and vent valve kits, drain valves and bolt down plates.
Product Features:
Free standing, easy to install design
Universal cup allows the use of plug in (Code 3, Code 8 and Code A) or DOE cartridge styles in the same housing
Vee clamp closures use unique 'W' style seal for reliable leak free operation (Not available on 6119)
High quality cast Vee band clamps for safety and security (Not available on 6119)
Cast compression nut with integral PTFE washer for easy, hand tight cartridge sealing
Wide range of connection sizes and types, cartridge lengths and materials of construction
PED and ATEX Compliant
Features and Benefits
Integral vent, clean and dirty drain sockets to aid efficient filter changeout
Universal cup enables choice of plug in (Code 3, Code 8 and Code A) or DOE cartridge styles in the same housing
Bolted closure options available
Every housing is etched with a unique serial number for full traceability
Available in 316L Stainless Steel
Full housing customisation service available
Internally and externally electropolished as standard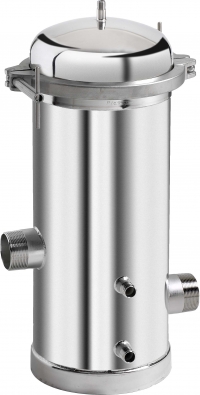 What
What Working With Amazon Filters Can Do For You
By shifting the focus to lifetime savings, you can ensure consistent, high-quality output without impairing production; all whilst improving your bottom line.
Ensure your product quality
Our filters can directly replace your existing filters ensuring the quality remains the same
The Amazon F4P approach
Our technical experts can audit your process to ensure you get the best process at the best price.
Manage your stock, logistics and delivery
Flexible delivery options ensure you have the stock where and when you need it, with no downtime.
Help you reduce manufacturing cost
Amazon can guarantee a minimum 10% saving on annual spend.
Transparent customer service
We'll work with you, how and when you want. No excuses - just honest, transparent customer service, backed by years of experience.
Let's Get Started
WE'LL MAKE SURE YOU'RE GETTING THE BEST OUT OF YOUR FILTRATION SYSTEM
Call our team on +44 (0) 1276 670600 or email us below