SupaSpun II Mn R31
The SupaSpun II Mn has been specifically developed to provide a cost-effective solution for manganese removal down to below 1ppb where capital investment and operational costs of traditional sandfilters are not viable.
Working in close collaboration with municipal water suppliers the unique melt-blown fibre construction of the SupaSpun II Mn has been shown to be an extremely effectively substrate for initial seeding of Mn(IV) and subsequent acceleration of removal through catalytic action.
Filter Construction
The varying polypropylene fibre diameters and packing density throughout the filter result in a design optimised for manganese retention and volumetric throughput. With over 30 years of experience in the production of filters using the melt blowing process the consistency and specification of the structure is guaranteed.
Water Quality
Reducing levels to below 1ppb at the water treatment works (WTW) may seem unnecessary but many studies have shown that even small amounts of Mn(II) in the water distribution network can precipitate out through changes in pH etc, with subsequent accumulation and sloughing off pipework walls to create discolouration and flavour taints at the point of use. Installing the SupaSpun II Mn will significantly reduce the incidence of manganese accumulating in the distribution network.
Potable Water Approvals
SupaSpun II Mn R31 filters comply with a range of potable water regulations and their use can help users meet legal requirements.
Regulation 31 of the Water Supply (Water Quality) Regulations
The filters are approved in UK, Scotland and Wales for use in public water supplies and are included in the UK Secretary of State's List of Approved Products for use in connection with the supply of water for drinking, washing, cooking & food production.
Water Regulations Advisory Scheme (WRAS)
Filters have passed the UK Water Bylaws/ WRC 'Full Test of Effect on Water Quality (BS6920:Part 3) – Cold Water Use' and are approved for use in potable water (Approval No. 1703501)
Features and Benefits
DWI approved and hence meets key municipal water regulatory requirements
Optimised meltblown fibre construction that accelerates manganese precipitation and removal
Installation costs <25% of traditional sandfilters meaning smaller boreholes can be brought on stream to cater for fluctuating demands
High volume throughputs and flowrates in conjunction with multi-round bespoke filter housings and filters up to 60" in length
Easily retrofitted into existing systems
Rental skid systems available with SupaSpun II Mn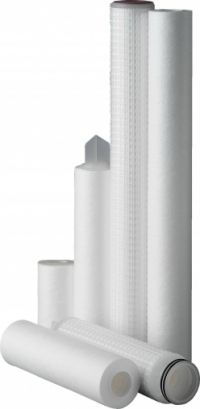 What
What Working With Amazon Filters Can Do For You
By shifting the focus to lifetime savings, you can ensure consistent, high-quality output without impairing production; all whilst improving your bottom line.
Ensure your product quality
Our filters can directly replace your existing filters ensuring the quality remains the same
The Amazon F4P approach
Our technical experts can audit your process to ensure you get the best process at the best price.
Manage your stock, logistics and delivery
Flexible delivery options ensure you have the stock where and when you need it, with no downtime.
Help you reduce manufacturing cost
Amazon can guarantee a minimum 10% saving on annual spend.
Transparent customer service
We'll work with you, how and when you want. No excuses - just honest, transparent customer service, backed by years of experience.
Let's Get Started
WE'LL MAKE SURE YOU'RE GETTING THE BEST OUT OF YOUR FILTRATION SYSTEM
Call our team on +44 (0) 1276 670600 or email us below