SupaPore VP Biological Filters
SupaPore VPG, VPB and VPBA cartridges use a high flow, highly Asymmetric hydrophillic PES membrane and the VPBA contains a built in pre-filter. The supporting pre-filter layer and membrane combination improves on steam life and dirt holding capacity making VPBA cartridge an ideal choice for the Pharmaceutical Industry where challenging or heavily loaded solutions are to be processed.
The SupaPore VPBA has proven successful in API or Pharmaceutical manufacturing, where contamination levels are known to be higher, or where a double layer membrane is required, or bioburden control is critical to successful filtration. The dual layer construction of the SupaPore VPBA improves wetting for integrity testing and reduces the risk of false failure. This additional membrane layer holds the water used to wet the filter against the final layer, therefore achieving more effective wetting.
The VPB Biological grade cartridge is ideal for final sterilising or bioburden reduction applications, the high flow capacity is achieved with extremely low differential pressure.
The VPG General grade cartridge is ideal for bioburden reduction or particulate control, the high flow capacity is achieved with extremely low differential pressure.
All cartridges are thermally bonded and adhesive free. Each unit is pre-flushed with ultra-pure water and integrity tested before final assembly.
Meets current USP Class VI requirements
Meets US requirements for materials intended to come into contact with food described in CFR Title 21
Meets the requirements for food contact as detailed in European Regulation (EC) Number 1935/2004
Full product validation guide available
Available in a wide range of grades & absolute rated pore sizes.
Amazon Filters manufactures a comprehensive range of filter housings for SupaPore cartridges including the industrial 50 and 60 Series and the 70 Series for hygienic applications. Please consult our Sales Office for further details on the full range.
Features and Benefits
Naturally hydrophilic PES membrane
Optional integral pre-filter layer on VPBA
5 to 40" length options with a range of common end caps
Comprehensive validation guide available
Low binding for minimal active ingredient loss
Excellent chemical compatibility
Can be regenerated for extended service life
Can be repeatedly integrity tested
Range of removal ratings and validated for consistent and reliable performance
(Note: steaming, autoclaving and hot water sanitisation must use the glass filled end-cap option)
*1 See product guides for further details stating test method and rated efficiencies
Download the SupaPore VPG datasheet
Download the SupaPore VPB datasheet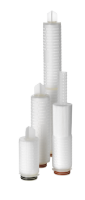 What
What Working With Amazon Filters Can Do For You
By shifting the focus to lifetime savings, you can ensure consistent, high-quality output without impairing production; all whilst improving your bottom line.
Ensure your product quality
Our filters can directly replace your existing filters ensuring the quality remains the same
The Amazon F4P approach
Our technical experts can audit your process to ensure you get the best process at the best price.
Manage your stock, logistics and delivery
Flexible delivery options ensure you have the stock where and when you need it, with no downtime.
Help you reduce manufacturing cost
Amazon can guarantee a minimum 10% saving on annual spend.
Transparent customer service
We'll work with you, how and when you want. No excuses - just honest, transparent customer service, backed by years of experience.
Let's Get Started
WE'LL MAKE SURE YOU'RE GETTING THE BEST OUT OF YOUR FILTRATION SYSTEM
Call our team on +44 (0) 1276 670600 or email us below