SupaCarb RP/XP
SupaCarb RP/XP filter cartridges feature a rolled felt carbon impregnated media combined with Amazon Filters unique spun bonded particulate removal layers resulting in a genuine dual purpose element. The SupaCarb RP/XP series offer economy with efficiency for chlorine, odour, colour and trace organic reduction levels.
Product Features
Multiple layered carbon impregnated polyester felt
One piece construction up to 1015mm (40")
Polymer materials meet US FDA Title 21requirements
The construction of SupaCarb RP/XP uses a polyester substrate, unlike many other rolled elements that use a cellulose based support. This minimises the risk of microbiological contamination and allows its use in a wider range of chemical applications because of its better compatibility.
Equipped with 5µm nominal rated spun bonded polypropylene pre-filtration layers and a full range of welded end caps, SupaCarb RP/XP elements are the ideal choice for those requiring activated carbon cartridges. Compared with conventional Granular Activated Carbon cartridges, the SupaCarb RP/XP will not fluidise, channel or bypass, therefore maximising the effectiveness of the carbon media.
Features and Benefits
Large carbon surface area exhibits excellent chlorine reduction characteristics
High surface area 'XP' option available
Graded density pre-filtration layer for effective sediment removal and protection of the carbon media
All polymeric construction offers excellent chemical compatibility and stability in aqueous solutions
Minimal carbon release when compared to conventional loose filled granular (GAC) style cartridges
Identification embossed on every cartridge
Construction eliminates fluidising, channelling or bypass
Can be sanitised and steam sterlised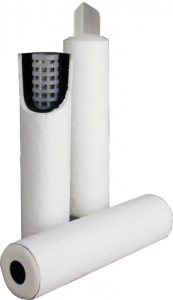 What
What Working With Amazon Filters Can Do For You
By shifting the focus to lifetime savings, you can ensure consistent, high-quality output without impairing production; all whilst improving your bottom line.
Ensure your product quality
Our filters can directly replace your existing filters ensuring the quality remains the same
The Amazon F4P approach
Our technical experts can audit your process to ensure you get the best process at the best price.
Manage your stock, logistics and delivery
Flexible delivery options ensure you have the stock where and when you need it, with no downtime.
Help you reduce manufacturing cost
Amazon can guarantee a minimum 10% saving on annual spend.
Transparent customer service
We'll work with you, how and when you want. No excuses - just honest, transparent customer service, backed by years of experience.
Let's Get Started
WE'LL MAKE SURE YOU'RE GETTING THE BEST OUT OF YOUR FILTRATION SYSTEM
Call our team on +44 (0) 1276 670600 or email us below