Contour
Contour melt blown cartridge filters utilise the very latest in high strength fibre production to create a large diameter core-free element. Engineered to operate in high flow applications, the high capacity, low pressure loss media is an ideal choice for use in a wide range of liquid processing applications. No resins, binders or other materials are used in the manufacturing process, this results in a fibre free, uncontaminated process fluid.
Utilising the housings own integral support core, this cartridge shows excellent performance in terms of life, disposal costs and overall cost effectiveness when compared to conventional cartridges.
Contour cartridges are produced using a unique manufacturing process resulting in the following features:
High Efficiency Filter Media
Available with ratings from 5 to 100µm+
Consistent reliable performance
Unique Construction
Core-free design
Free from resin binders
High void volume, resulting in low clean Δp and excellent dirt holding capacity
Thermally bonded fibre matrix stops fibre migration
One piece construction up to 1013mm (40")
Product Features
Option of 100% polypropylene or 100% nylon 6 construction
Materials meet US FDA Title 21
WRAS listed and Reg 31 approved for use in UK potable water supplies (PP only)
No resins, binders or anti-static agents
True graded density for enhanced life Contour fibres are blown continuously onto a central production mandrel, without the need for resin binders or lubricants. This results in a one piece, core-free construction that is resistant to unloading and media shedding. True depth filtration results from the closely controlled production process. The manufacturing and environmental Quality Systems ensure a consistent and reliable high quality element.
Elements are available in two standard sizes, 508mm (20") and 1013mm (40"), double open ended format.
Features and Benefits
Consistent and reliable performance and efficiency
No resin binders – thermal bonding process prevents media migration and ensures minimal extractables
Identification imprinted on every cartridge
Graded density structure for maximum dirt holding capacity
Increased void volume giving high flow rates and low initial pressure losses
Wide chemical compatibility, using 100% polypropylene or nylon media
Range of ratings from 5 to 100µm+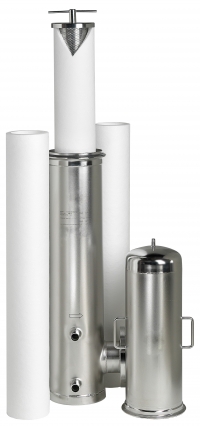 What
What Working With Amazon Filters Can Do For You
By shifting the focus to lifetime savings, you can ensure consistent, high-quality output without impairing production; all whilst improving your bottom line.
Ensure your product quality
Our filters can directly replace your existing filters ensuring the quality remains the same
The Amazon F4P approach
Our technical experts can audit your process to ensure you get the best process at the best price.
Manage your stock, logistics and delivery
Flexible delivery options ensure you have the stock where and when you need it, with no downtime.
Help you reduce manufacturing cost
Amazon can guarantee a minimum 10% saving on annual spend.
Transparent customer service
We'll work with you, how and when you want. No excuses - just honest, transparent customer service, backed by years of experience.
Let's Get Started
WE'LL MAKE SURE YOU'RE GETTING THE BEST OUT OF YOUR FILTRATION SYSTEM
Call our team on +44 (0) 1276 670600 or email us below